Downtown Danville, Florida event center...
Danville is the creation from the imagination of Dan Shaw. With the help of Deborah, his wife of 43 years, they set out to build a guest house on their private airstrip in Geneva, Florida.
They have created a disneyesque street-scape inside a large airplane hangar. The door of the hangar was transformed into a wrap-a-round porch – they wanted something different and they were successful.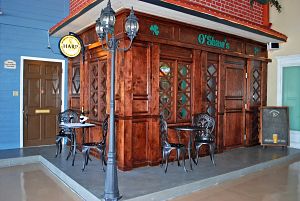 As you arrive at Danville, a name they chose for Dan's creation, you would never guess that the entire front of the building raises to reveal downtown Danville.
As you enter the little town, to the left on Main Street is Lily Marlene's.
The sign and façade behind was once a restaurant that was located at Church Street Station, a tourist attraction of early Orlando. Further along Main Street is O'Shaw's Irish Pub, a fully functional pub with a 10' antique oak bar. Bar stools and table from Townsend's Plantation, another attraction from the early days, make the pub a comfortable retreat. A gas fireplace and dartboard add to the feeling of a pub of the 40's.
Across Main Street is Danville Wash-a-teria, a working laundry for guest use. Next door is Danville City Hall. Dan uses this as his office. It too, is appointed in the 40's style with typewriter, mimeograph and Dictaphone.
At the end of Main Street is the Danville Inn. This is where you'll spend the night. A balcony overlooking downtown will give you a wonderful vantage point to see the 15'x15' drive-in movie screen at the end of town. (which actually, is the back side of the 45' front door.
Enter the Inn and be greeted by Larrie May Franz, the Innkeeper and Facilities Coordinator.
Photo Booth

We would like to introduce you to our newest addition to Danville: a full-sized photo booth. Our photo booth offers both you and your guests a keepsake from your special event.

Within 30 seconds the photo booth prints out two strips – one for guests and one for you. The photo strips are placed in an album provided. There is space for your guests to write a special message that you will enjoy for years to come.

Count down to fun. The photo booth will keep your guests entertained for hours.

3 …. 2 ……1…… Smile!

The Danville Photo Booth is included in all packages.